Treating Gum Disease the Easier Way
in Burlington CT and Beyond!
Laser treatment can help treat your gum disease in Burlington CT, Plainville CT, Bristol CT, Southington CT and surrounding areas. Gum disease is serious and it must be treated. Historically the treatment was uncomfortable and required a longer recovery time. Robert Treado DMD provides periodontal treatment options to battle gum disease using state of the art laser periodontal therapy. Laser therapy has so many advantages!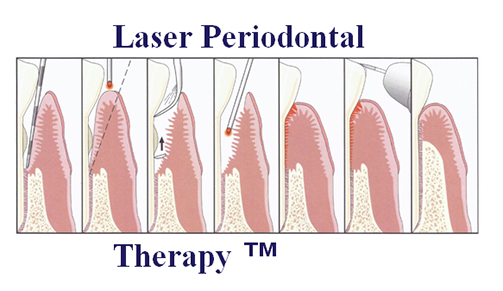 Why Treating Gum Disease is Critical
Gum disease can be very serious creating bone loss around your teeth and can result in tooth loss, infections and long-term issues if you do not start treatment right away. The right dentist, a Periodontist will be able to provide you with the treatment that you need and help restore your gums to good health.
Laser therapy is also used to treat failing implants with new cutting edge technology using a nonsurgical approach.
Taking the steps that you need to will get you on the road to recovery and can help to prevent future tooth loss. Robert Treado DMD has had extensive training using the Millenium Periolase laser, FDA approved to treat periodontal conditions. This laser treatment process can improve your condition significantly.
Traditionally treating gum disease involves removing infected tissue, which resultes in tissue loss, gum recession and discomfort. Laser therapy,LANAP and LAPIP uses a state of the art laser techniques with a highly trained dental professional at the helm to manage gum disease without:
This technology makes getting your gums in great shape and disease free so much more comfortable and easy. Dr. Treado can help you solve your periodontal problems without having the side effects that are associated with traditional treatments.
If your gums bleed when you brush, are swollen and painful it is time to get the help that you need. Make an appointment for an exam and Dr. Treado will discuss how laser therapy can help!